Nature and Cultural Awareness Journal May 13, 2017
One of the wonderful things about being on the road is the people you meet. With all the very profound changes occurring across our political landscape, it seems imperative to understand and listen to why people believe the way they do, to see how they live and share resources with each other.
Lake Powell certainly did that. My neighbor and her husband were from Alabama and had been traveling for several months. We were in some ways very opposite, yet we were both united in wanting to serve and to share what we had with each other. She gave me maps, advised me on routes and the visitor center to stop at in Grand Staircase, and taught Robbie how to play the Bowed Psaltery. We talked about the concept of evolution, carrying guns and wasp spray for protection and prayed together. I am someone that needs deep quiet to take in nature and to rejuvenate, she needed to talk and engage almost constantly. Introvert and extrovert. She got me out to see the rising orange moon and I listened to her viewpoints.
Robbie was very happy about learning to play the Bowed Psaltery, he played a full verse of Amazing Grace, one of my favorite hymns. I was happy to hear about its history and Biblical references: played by David at King Solomon's court. I was happy as well that I remembered my Biblical history. It was my favorite book growing up as a child and our interaction reminded me that I'd like Robbie to study from it as well.
The Bowed Psaltery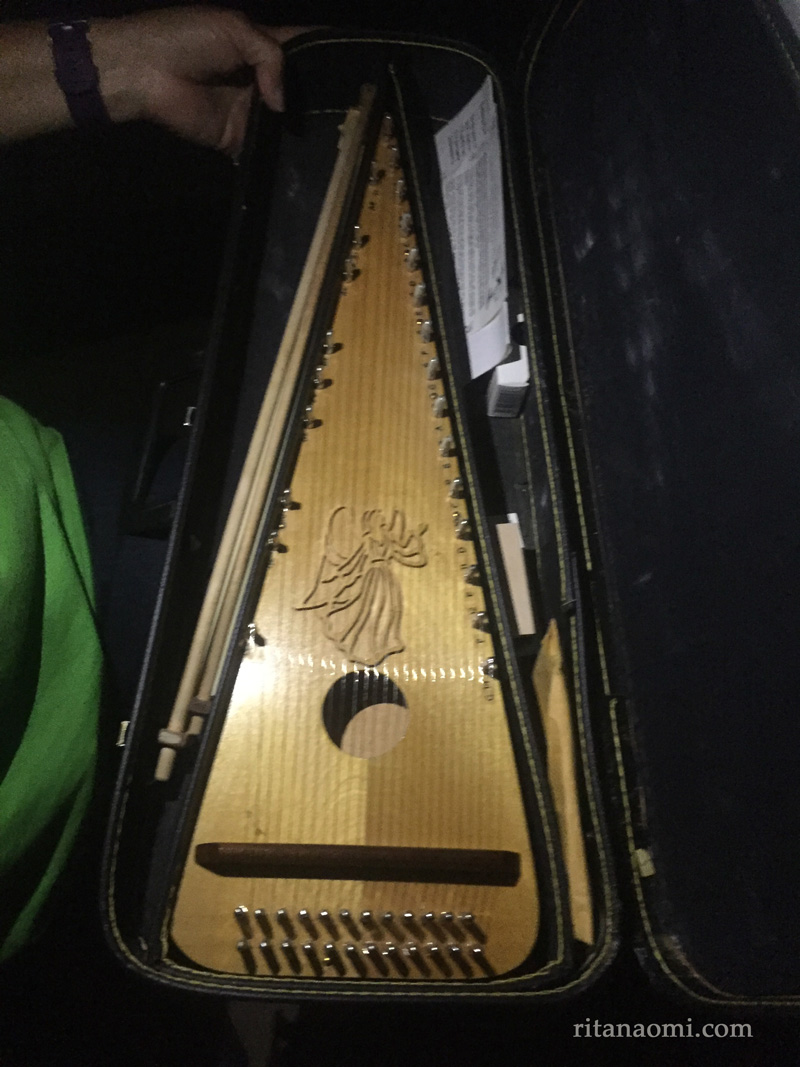 We made "muesli", our gluten free version. We mixed gluten free granola, peanut butter and chopped apples together for a total yum breakfast on the beach.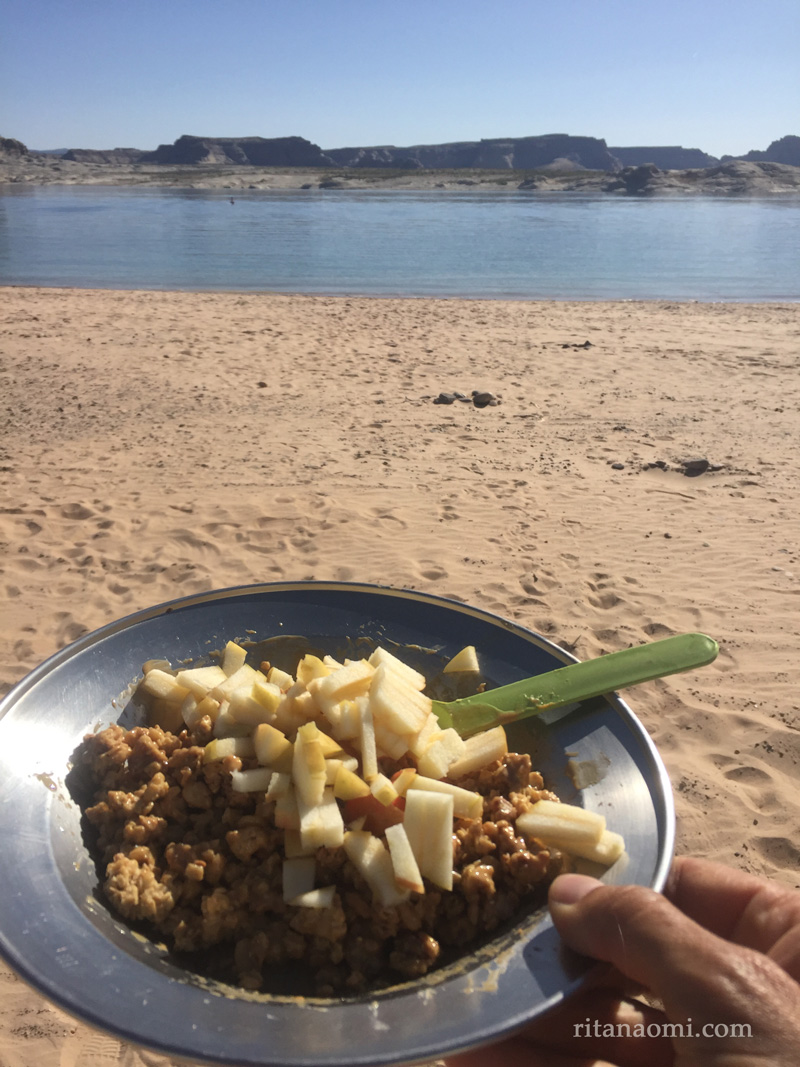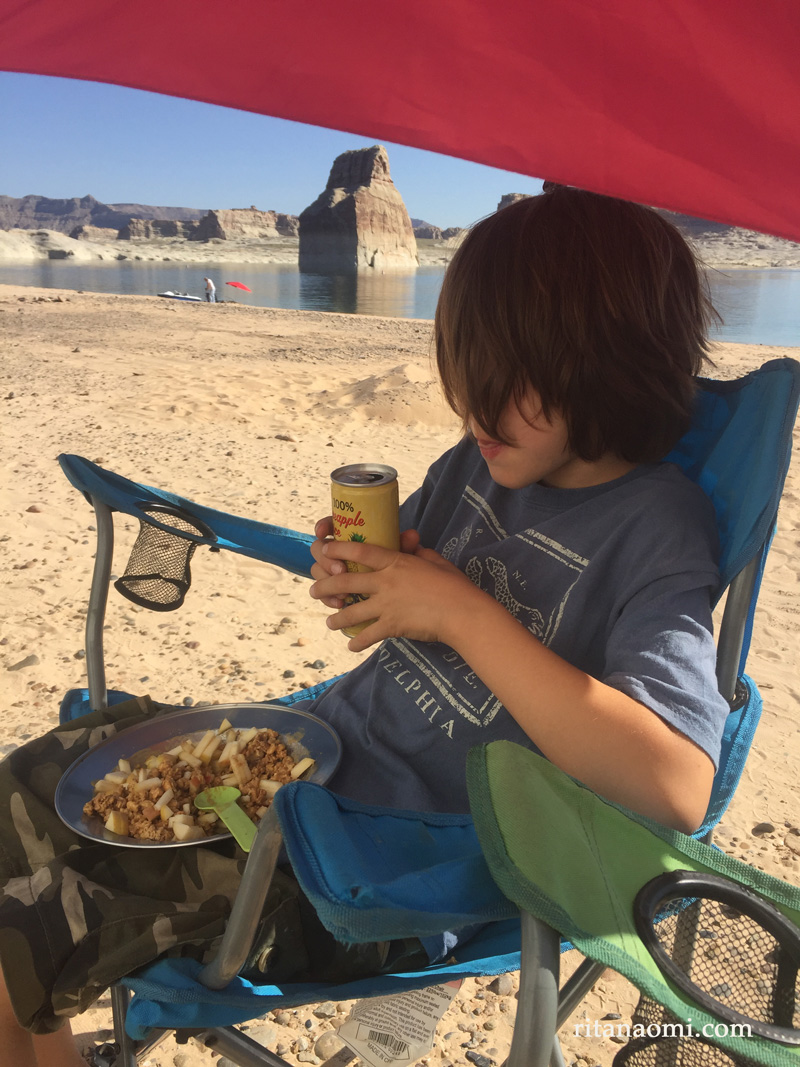 We then blew up our inner tube and played in the frigid water for an hour.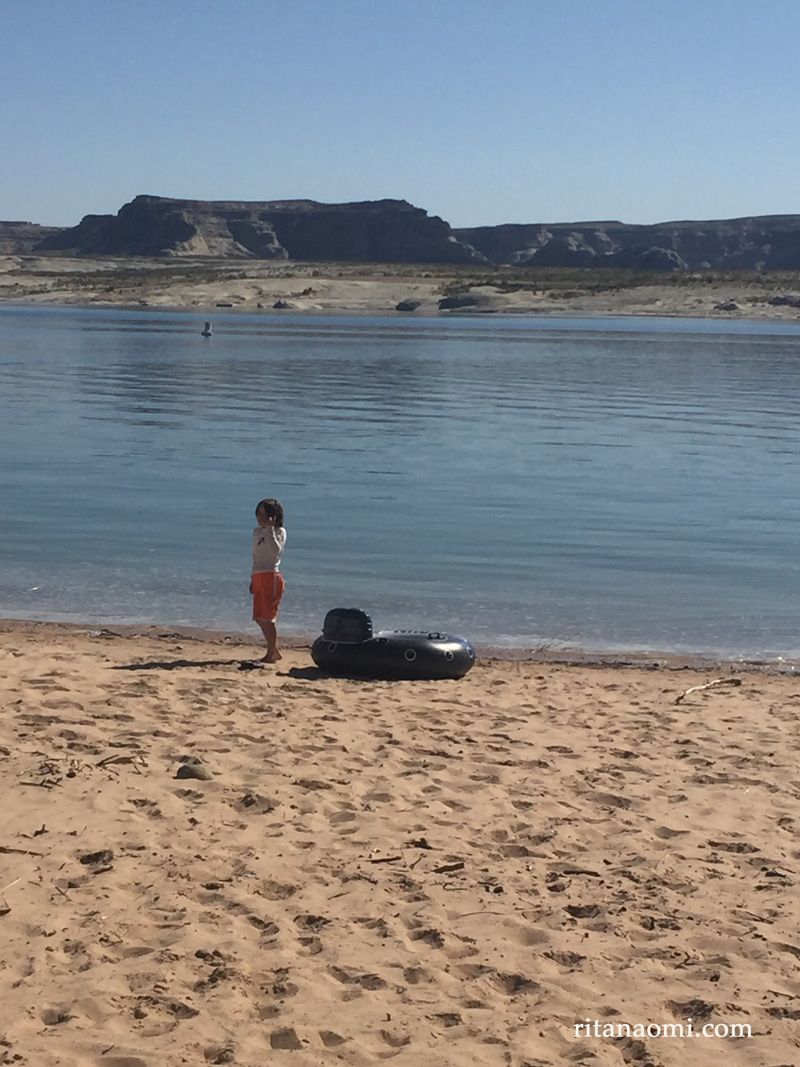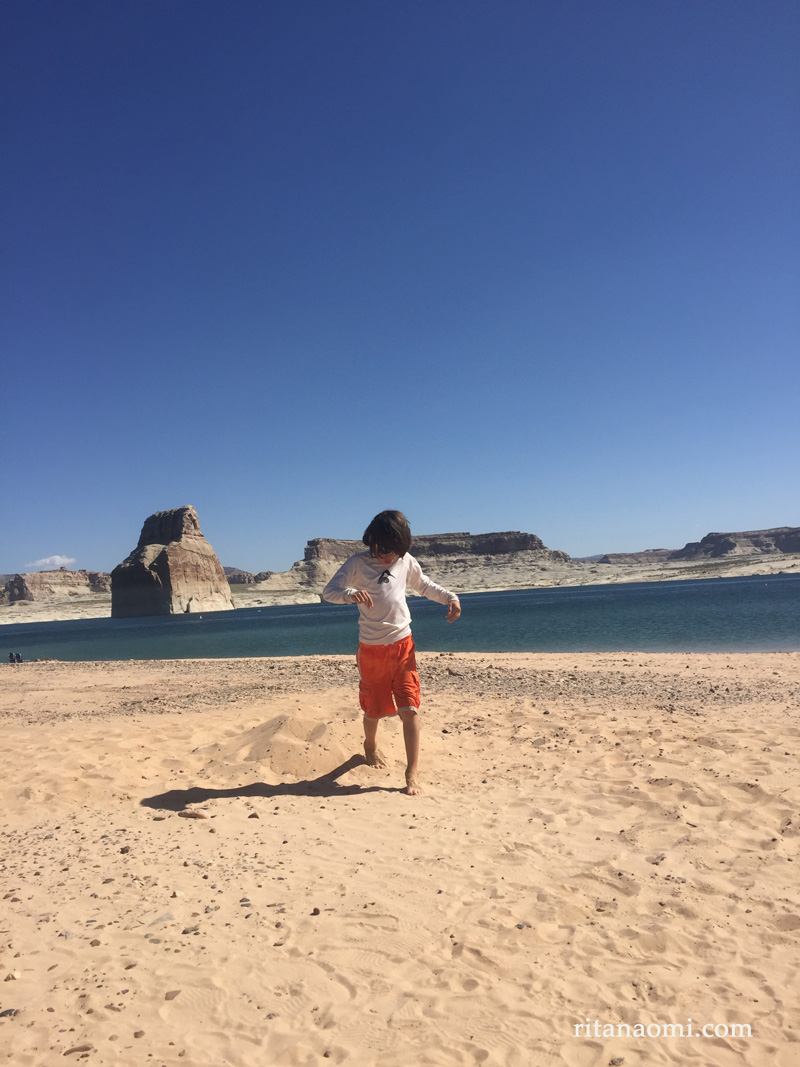 By 9 a.m., the sun was bright and too hot to stay out in, the wind was whipping up in bursts of stinging heat that hurt too much to stay outdoors. Our neighbors tents were being driven to the ground with upward of 40 mile an hour gusts. Most sought refuge in their trucks and cars. We decided to move on…we had a full morning of water play and we had plans for Bryce, a 2 and a half hour drive.
We never unhitched so packing up was short. I had learned my lesson from the evening before, despite all my bungees and other protective measures, I still had a bottle of hot sauce, a full container of almond milk and a mason jar explode in my trailer, so everything breakable, went into a small box wedged under the sofa. Off we went.
But unbeknownst to me, the sand had kicked up enough to cover the way I taken in and as I slowed down to try and see the path, we sunk into the sand. "I am scared Mom", Robbie said as my wheels spun in the sand. "Hmmm, I hear you Robbie. But there are a couple of people over there, the ranger station is walkable, we have plenty of water, my cell phone works so we can call towing and insurance covers all of this should we need a tow or need repairs. That sound alright?" Big sigh. "Yes!", he said. "I'm going to run down and get those people there at the beach. Sound good?" "Yes I'll stay here mom, the sand hurts."
I brought back 2 young couples on break from college. We fastened a rope to my front chassis, I shoveled out a trench, the girls drove the truck, the boys pushed and Robbie cheered. After 2 attempts, we were out. I thanked them profusely and they all laughed, "it happens to everyone at some point on the beach!" We laughed and waved and made our way up the sandy slope back to the main road. Thankfully the remaining 1/2 mile without incident. We were off to Bryce National Park via Grand Staircase Escalante.