Meet Rita

Rita Naomi is the founder of the NAOMI healing method, an Integrative Healing and Living practice

based on

wisdom practices and personal lived experiences in nature

.

At the age of 6, Rita Naomi was introduced to the power of transcendental meditation as well as a radical shift in lifestyle with the introduction of yoga, herbal medicine and the Ayurvedic diet. As part of a U. S. military family traveling the world, she became aware of the many diverse ways of living, eating, and seeing the world. After working for the Navy in a stress research lab for 4 years, Rita Naomi went on to graduate school and received her Master's degree in physical therapy in 1997. She opened a private practice based in the Washington DC area called Integrative Wellness, LLC in 2001. Rita Naomi has numerous certifications and trainings in lymphatic drainage therapy, craniosacral therapy, biomechanics, neurophysiology, energy medicine, pranayama, yoga, mindfulness and meditation, lymphatic drainage, Ayurveda, life coaching, and the Feldenkrais Method. She leads an integrative nature school for children and adults; she and her 12 year old son have traveled extensively in the United States National Park system since 2016. One fifty plus National parks and monuments later, she continues to lead nature study in the National Park system. Of late, the shamanic traditions from her Filippino and Nordic ancestors have come to bear from living closely with natures rhythms, and are now integrated as part of the constellation of her healing practice.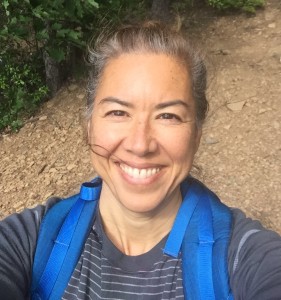 Rita has worked with many populations including: general orthopedic injuries as well as pre and post surgical care, veterans and post traumatic stress disorder, active duty military and diplomat families dealing with loss and other transitional issues, bruxism, chronic pain, acute and chronic edema with a focus in breast cancer, acute and chronic inflammatory conditions, women's pelvic floor health.
From these life experiences and decades of practice and inquiry, Rita Naomi developed an integrative, balanced, and unique approach to wellness and health called the NAOMI healing method. NAOMI healing includes: Nature's rhythms, Awareness based practices, Openmindedness, movement, and time for integration. All of these utilize the wisdom and transmission teachings of Eastern traditions and the academic knowledge of Western traditions to create a safe space for all who attend her classes. She leads groups for self and group healing, as well as provides individualized care.
"Perhaps my greatest passion as a healer is to bring together the worlds of the body and spirit. There is much informing us in every moment that can act as a vehicle to propel us to our greatest potential."
Rita's healing philosophy:
1. We are born with an energetic blueprint.
2. Our body is matter slowed down long enough to take form.
3. Illness can when that connection between the energetic blue print is severed.
4. The senses are the gateway to the energetic blue print.
5. Injury can happen in 2 ways: in an instant, or over a period of time. Some injuries seemingly happen in an instant, yet a past injury, thought, or belief may have set the ground work for compensations and micro-injuries over time, building up to a larger wound that only become apparent when the pain or a situation in life brings it to the foreground. Pain is often the last ditch effort of the body to pay attention.
6. Our bodies live in the voice of the soul: the body translates the soul.
7. Optimal healing occurs when we recognize we are all connected.
Rita's mission is to create safe spaces inside and out so that people can awaken to their healing potential. In so doing, they can create optimal health and happiness within themselves, their families, and the world around them. She enjoys inspiring people to transform through nature exploration, yoga and mindful movement, spiritual journeying, and the expressive arts.
Contact Rita for more information, and to book a session, click here. An initial consultation is required by phone or email to determine if working together is the best fit.