Last year at this time my son and I were driving in the early morning hours through the caldera of Yellowstone, bubbling hot pots of mud steaming by the road side. We watched a black bear foraging for road side berries, a golden eagle skimming the surface of Lewis lake, and a bison grazing in a meadow. The high altitude air was dry, crisp, and clear.
Now a year later, we are camped by a lake in the San Juan Islands of Puget Sound. Bullfrogs croak their song, evergreens tower overhead, and there is an occasional splash of fish, we were told bass, falling back into the water. Nature has just awoken as it does everywhere, the animals and fish up and about as the first morning rays come across the horizon. The sea air is wet and cool.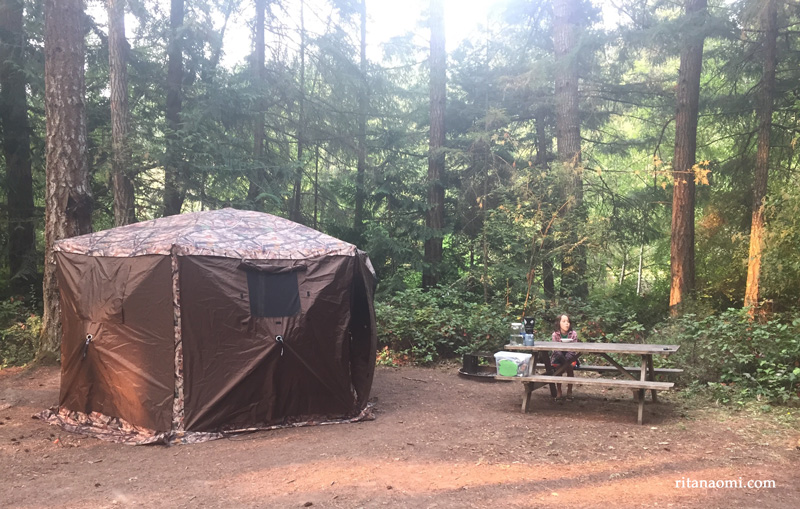 Robbie is fast asleep here in the tent, we have just spent 6 days with cousins in Victoria, British Columbia. He spent a week of epic media absorption, day after day of watching cartoons with his cousins, not his usual routine. We met with cousins who flew in from Australia and cousins who relocated to Victoria from Brazil. We blasted our senses with wine and great food (me), desserts, movies and Minecraft (Robbie) and now we were back in the woods letting go into the larger tribe of our humanity and Mother Nature, rebalancing and engaging our senses again in another way.
I have just finished my yoga practice. I am aware of the many rhythms of life around me, the sounds of birds, the waters of my body flowing in the lymphatic system, sweat running down my side, the air cooling me off, the sun rising above the trees, red gold in the misty air, my feet solid on the ground.
I worried a bit about Robbie being overstimulated this past week. I certainly was which meant poor sleep, anxiety and craving sugar, a vata imbalance in a pure sense of the word. But seeing my family and letting Robbie (and me) get to play and be with his cousins was precious beyond measure. We had tremendous fun and felt full to the brim with love for the really wonderful people that we call our cousins. To help ourselves balance, I started massaging Robbie's feet at night, and we did a breathing practice together. For myself, I did whole body massage with an emphasis at my feet, using an organic vata balancing oil and keeping a routine of exercise in the morning with gentle movement, and warm water with lemon juice and the herb triphala.
Getting here last night, I was bustling about, setting up the tent, wanting to get us settled, when Robbie said, "Mom you must come here right now." He made me sit down then threw his arms around me, "Mom, it is time to pause. Let us be quiet for a bit".
"Oh, wow, Robbie, thank you! I love you!", I said.
He did not respond verbally, he instead put his head at my heart and stayed quiet.
We sat that way for awhile , taking in the trees, the gentle breeze, birds chirping, the sounds of distant families, the smell of smoke from a nearby campfire drifting by.
After a bit, we went to bed, listening to a story and falling asleep to the sound of the wind in the trees.
It is strange, wonderful and challenging to be a parent. We explore together, me not sure if he is taking anything in and what he is learning at times. He truly surprises me at times with gifts of pause and togetherness.
Life is meant to be lived in harmony. For me it means finding the larger truths, the points at which we all connect, those values most naturally expressed in children: to find wonder in the everyday, to engage and connect with our surroundings with curiosity, to receive from our environment, to bless each other with our company.
As an adult, the powers of discernment and experience have taught me that this body and mind need care and without proper rhythm and tending, we will lose our way, we will disconnect from our own natural harmony and in effect create disharmony just from our presence. Everything is a balance, as individuals, parents or caregivers to life and living presence whatever its form, it is one of our deepest responsibilities to find our own balance place inside and out.
Now here in the islands of San Juan, we will tour and study at the San Juan National Historic Park and Ebey National Historic Refuge. I will teach a class in Whidbey Island on learning to find and be with the rhythms of your body…teaching lymphatic techniques, gentle yoga and the breath to encourage flow and balance. Robbie will earn several more junior ranger badges. We will connect with good friends. And we will connect with nature inside and out in a deep lasting way.
May you too connect with balance and ease in everyday life and be filled with gratitude.
Namaste