Today was the last day of meditation here before we continue on on our journey in the U.S. National park system and the surrounding landscape.
For 6 days now, I have come down to this little dock on a Whidbey Island bay, watching the sun rise, the waters change from still to white breaker waves. Ravens, bald eagles, sea gulls and cranes have swooped, cawed, shr'eed, and fed alongside me on the dock. Blackberry and plum trees hung heavy with fruit by the roadside. The purple pink sweet peas and white Queen Anne's lace bowed their heads with the wind.
This morning was not unlike any other morning, breathing, movement, meditation, prayer. Like in my practice as a mother, I sought to include the sounds, wind, waves, and sun.
"I am not the waves", I say to myself as I move from mountain to tree pose. I fall to my right side, repeatedly, until giving in, I put my right toes on the dock, heel on my inner left calf. I stand for awhile, enjoying the waves under my feet, the added stability of my right toes on the dock.
Balancing on my right foot unlike other days and the other foot was very easy comparatively. I felt myself float on the waves under my right foot, left foot resting on my inner right thigh.
Some days it's easy on the right, some days easier on the left. Some days easy to include my son, the world and life, some days not so much and I need a little extra support.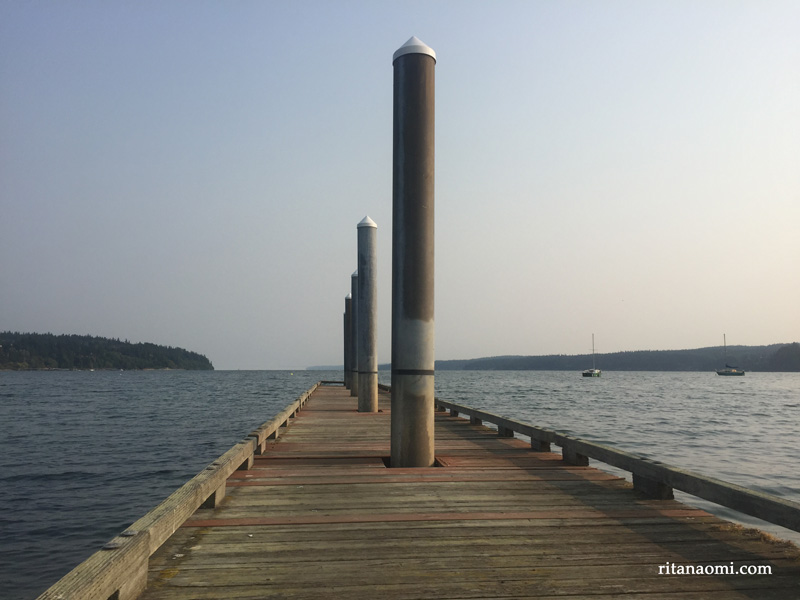 This journey around the country has been like that. Some days more extreme than some. I am deeply grateful to all those who have understood the rigors of this trip, who have stood by in faith and loyalty, even when not totally understanding the richness and beauty that is unfolding. It is hard to say what the next step is, like any spiritual practice, the unknown is meant to be our friend, and balance while sometimes hard to come by can be touched in the waves, the sunrises and sunsets, but mostly for paying attention right now to where I am and you are and listening.
Wishing peace and metta to all…Namaste